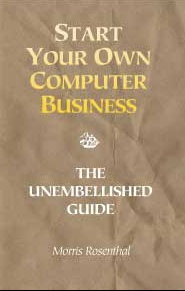 Also available:
The Laptop Repair Workbook ($13.95)
Computer Repair with Diagnostic Flowcharts ($9.95)
Ebook License Terms
Start Your Own Computer Business Ebook - $11.95 (Massachusetts 6.25% Sales Tax)

A download link appears on the screen at the end of the payment process. Our eBook download service also sends you a confirmation by e-mail with link for in case you miss the first one due to a pop-up block. If you don't get the e-mail with the back-up link immediately after paying, please check your "spam" or "bulk" folder before contacting me. The spam filters of mail services like HotMail and Yahoo sometime misfile the confirmation.
Also available: The Laptop Repair Workbook ($13.95) and Computer Repair with Diagnostic Flowcharts ($9.95)
Start Your Own Computer Business | If It Jams Home | Contact